Comprehensive and Preventive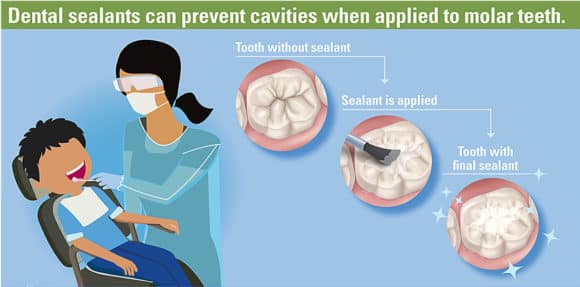 Defending your teeth against decay requires more than just brushing and flossing. At his offices in Millville or Voorhees, South Jersey, Dr. Fuming Li can provide patients of all ages with dental sealants to keep your teeth protected from damage.
What are Dental Sealants?
The enamel layer on your tooth is the first line of defense against acid and bacteria. It's designed to act as a barrier, protecting your delicate dentin and dental pulp from damage. In fact, enamel is harder than steel! Even so, your enamel benefits from extra protection, which is why Dr. Fuming Li recommends dental sealants to all of his patients.
Dental sealants act like a protective shield for each tooth. When placed on top of teeth, particularly molars, sealants keep your enamel even safer from damage or decay caused by bacteria and corrosive acids.
Are Dental Sealants Safe?
Yes! The materials used are completely safe and won't cause you or your children any harm. The placement procedure is easy and painless as well. Here's how it works:
Dr. Fuming Li will clean the surface of your tooth. If the tooth is not properly cleaned and dried, the sealant won't be able to bond with it properly.
Once your tooth is cleaned, Dr. Fuming Li will cover the surface with a solution to ensure that the treatment bonds properly.
Finally, our dentist will cover your tooth with the sealant material. It's applied to your tooth as a liquid and then hardens into a solid.
Dental Sealant Benefits:
Save Money: Treating a cavity can be expensive. And considering that most American adults have at least 3 decayed teeth, treatment costs can add up over time. Save money by getting treatment early to stop the spread of tooth decay.
Be Healthier: Tooth decay can lead to more severe oral health problems in the long run. Even after you have a cavity filled, the structure and health of your tooth is compromised. As with most health issues, it's best to completely avoid them rather than treat them. Dental sealants safeguard the overall long-term health of your teeth and gums.
Simplicity: Dental sealants can be applied quickly and painlessly and are designed to last for many years.  This is good news for parents and kids who hate going to the dentist!
Save Time: Getting a tooth filled is inconvenient. Usually, you have to schedule a second appointment for your filling, taking you away from your busy schedule. Plus, waiting for the anesthetic to kick in is time-consuming and forces you to spend more time than necessary in the dentist's chair. Dental sealants greatly reduce your risk for developing tooth decay, allowing you to spend less time dealing with oral health issues.
Remember, you cannot get sealants on your teeth if they're already suffering from decay. Ask Dr. Fuming Li about getting your child sealants as soon as their permanent teeth begin to erupt.
According to the American Cancer Society, almost 50,000 people will get oral cancer this year. Of those 50,000, an estimated 9,700 people will die of these cancers. Oral cancer is usually treatable if caught and diagnosed early. Dr. Fuming Li offers New Jersey patients oral cancer screenings at Millville or Voorhees practices. Schedule your screening today!
Detecting Oral Cancer
Oral cancer usually appears in the following areas:
Gums
Floor of the mouth
Tongue
Tonsils and oropharynx
Insides of the cheeks
Typically, your hygienists will perform oral cancer check-ups alongside your regular cleanings. It's important to get a check-up at least once per year. If you haven't had yours yet, make an appointment in Millville or Voorhees with Dr. Fuming Li.
Who is At Risk for Oral Cancer?
While oral cancer can affect anyone, certain patients are at a higher risk for developing the disease. If you have any of the following characteristics, make sure to get regular screenings:
Alcoholism
Previous diagnosis of oral cancer
Persistent sun exposure
Tobacco use, including cigarettes, cigars, chewing tobacco and snuff
Oral Cancer Signs
While your dentist will screen for oral cancer once or twice per year, there are certain symptoms that you can look for on your own:
Red or white ulcers that won't heal
Growing lumps or lesions
Unusual bleeding
Thickening oral tissues
Shifting teeth
Be Proactive – Schedule your Oral Cancer Screening Today
When it comes to preventing and overcoming oral cancer, proactive screenings are a critical step. If it's been more than six months since your last visit or if you're noticing abnormalities in your smile, visit Dr. Li at his offices in Millville or Voorhees to schedule your next oral cancer screening.
While Dr. Fuming Li is happy to treat patients with dental problems, the best way to ensure great oral health in the future starts at home. Caring for your teeth is fairly simple, but you need to make sure that you're practicing the right habits on your own.
Hygiene Techniques For All Ages
As your teeth grow, shift and change, your oral hygiene habits need to change with them. At Solid Rock Dental Care of Millville and Voorhees, our dentists work with each patient to provide them with age-appropriate care that ensure healthy dental care habits a home.
Children's Dental Care
Even before their first tooth erupts, you should routinely clean your baby's gums and mouth with a washcloth. As their teeth emerge, brush them with an infant toothbrush and a smear of toothpaste to prevent decay and infection. Where their teeth touch, floss between them.
As your child grows older, instill good brushing and flossing habits. Use a soft-bristle toothbrush and a pea-sized amount of toothpaste. Teach them correct flossing techniques, and make sure to get them to the dentist before their first birthday.
Dental Care Tips for Teens and Adults
As their permanent teeth grow in, a lot of teenagers require braces or other corrective orthodontic treatment. Straightened teeth are easier to clean and create less dental health problems down the line.
As an adult, make sure to brush and floss twice per day. Regular dental visits and oral cancer screenings every six months at our locations should become staples in your oral hygiene routine. If you begin noticing signs of gum disease like bleeding gums or tooth sensitivity in the time between visits, we encourage you to schedule an emergency appointment with Dr. Li immediately.
Dental Care for Seniors
As you age, your teeth and gums may begin to weaken. If you lose a tooth or several teeth, you can pursue restorative dental treatments like dental implants, dentures or dental bridges. Oral cancer screenings are especially important for elderly patients, as the likelihood of developing cancer increases with age.
If you or an older family member has difficulty using a manual toothbrush, you may want to invest in an electric brush. Depending on the condition of your smile, our Millville dentist may recommend scheduling dental appointments every four months rather than every six months to ensure your teeth, gums, and jawbone are as healthy as possible and to monitor ongoing issues like gum disease or tooth decay.
Start your Journey to a Healthy Smile Today
Whether you're searching for a new dentist or have been part of our dental family for years, Dr. Li and his team are here to help. We're proud to serve patients throughout New Jersey with comprehensive general, cosmetic, and restorative dental care. Call, email, or schedule your next visit at our locations in Millville or Voorhees to learn more about the best dental hygiene habits at home.
Ready to Make an Appointment? Call or Request Online
We also accept a variety of dental insurance plans
Our friendly staff will be more than happy to assist you with understanding your coverage or provide information on our financing options if you don't have dental insurance. Give us a call to any of our Solid Rock Dental Care Offices in Millville or Voorhees.