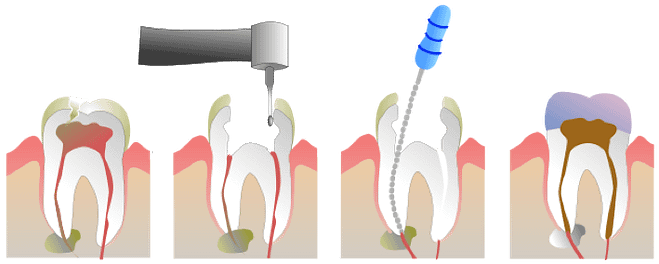 A root canal is a treatment used to repair and save a tooth that is badly decayed or becomes infected. During a root canal procedure, the nerve and pulp are removed and the inside of the tooth is cleaned and sealed. Without treatment, the tissue surrounding the tooth will become infected and abscesses may form.
Modern endodontic treatment is nothing like those old sayings! It's very similar to a routine filling and can usually be completed in one or two appointments, depending on the condition of your tooth and your personal circumstances. Getting a root canal is relatively painless and extremely effective. You'll be back to smiling, biting and chewing with ease in no time.
Saving the natural tooth with root canal treatment has many advantages:
Efficient chewing
Normal biting force and sensation
Natural appearance
Protects other teeth from excessive wear or strain
Pain-Free procedure
A cost effective treatment comparing to pulling the teeth and implant
Dr.Li completed endodontics training and is a certified endodontics specialist in Mainland China , make an appointment today and discuss with Dr.Li.
We also accept a variety of dental insurance plans
Our friendly staff will be more than happy to assist you with understanding your coverage or provide information on our financing options if you don't have dental insurance. Give us a call to any of our Solid Rock Dental Care Offices in Millville or Voorhees.